Viña del Mar
Valparaíso and Viña del Mar, Facing the Pacific
Valparaíso:Main port of Chile recently declared as Patrimony of the Humanity by UNESCO, built on hills in the coast of a busy bay surrounded by the majesty of eternal snows in the distant mountain range. The true attraction of Valparaiso is the hills that divide the city in two levels. In the lower part is the banking and commercial area in Pratt and Esmeralda streets, and Pedro Montt Avenue with its cafes and theaters and in the upper part, the characteristics and colorful constructions hanging from hills and cliffs in an impressive unfolding of zigzagging streets, side streets and allies. Traditional is the use of the elevators to connect the two levels of the city.
Viña del Mar: One of the most important summer social centers of South America located only 120 km from Santiago in a rocky coast of incredible natural beauty. The central zone can be crossed next to the sea by a route that follows the curves of the steep coast where it is possible to enjoy a very good gastronomy of products of the sea in the typical restaurants installed in front of the Pacific Ocean. The dusk offers romantic strolls by the Peru Avenue, on imposing rocks whipped by the waves and at night the casino offers a multiplicity of game rooms and live shows. Reñaca, Con Con, Rocas de Santo Domingo, Algarrobo and Isla Negra, where the poet and Nobel Literature prize awarded Pablo Neruda built one of his three houses, are some of the places that can be visited.
Golf in Viña del Mar / TOP GOLF COURSES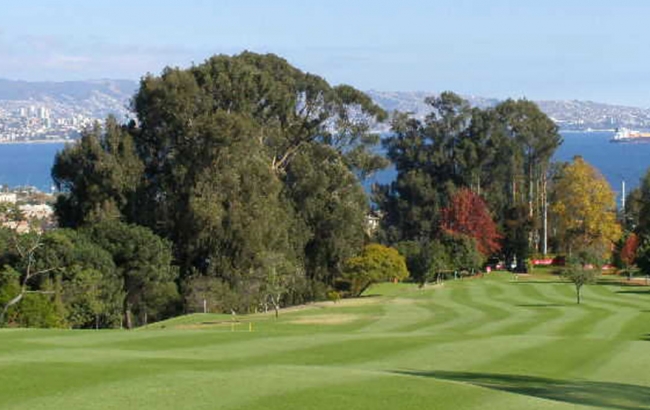 Granadilla Country Club is part of the history of Golf in Chile, a sport that came to this country at the hands ofEnglish immigrants engaged in trade and industry in the city of Valparaiso, in those years, Southern Pacificport.His 18-hole course designed by the founders of the Club, for over 110 years, is one of the most challengingfields of this continent, including holes with all sorts of difficulties, given the spectacular environment thatsurrounds it a beauty native vegetation and extraordinary. There are 120 hectares of a field that leaves no oneindifferent.