Puerto Madryn - Argentina
A place in the world privileged by nature, a UNESCO World Natural Heritage Site in 1999. Located on the Northwest coast of the province of Chubut, it is the most important attraction of the Costa Patagónica given the biological and geographical characteristics that make it up.
Right Whales, elephant seals and sea lions, Magellanic penguins, dolphins, orcas, numerous species of terrestrial wildlife, marine birds become the protagonists of the visit in a unique natural environment chosen by nature lovers.
Season to see the Whales: From June 15th - December 15th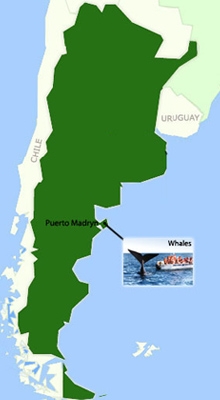 Ampliar el mapa